The King's royal residences
With our royal lineage spanning nearly 1,200 years and 62 monarchs, it will come as no surprise that Britain has an insatiable curiosity for all things royal. Luckily, it delivers - with anything from His Majesty's favourite holiday spots to masses of royal homes, you'll find a nation rammed with regal places and grand experiences.
For a unique insight into royal life, grab your map and discover grand palaces, historic castles and beautiful country retreats.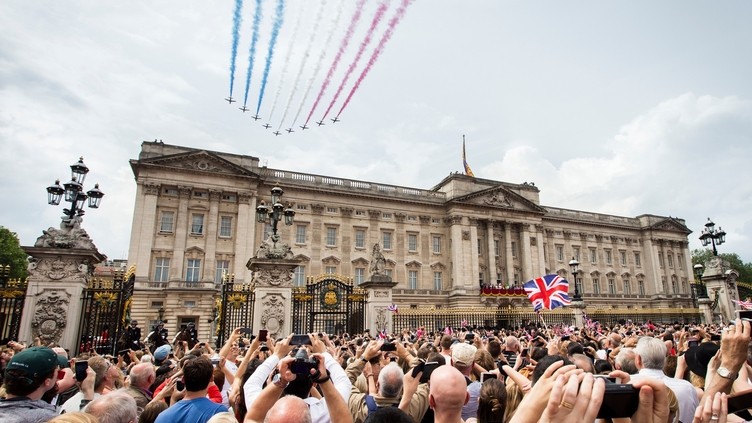 Buckingham Palace
Want to explore inside the Royal Family's iconic London home? On selected dates, Buckingham Palace opens its doors to visitors: your chance to marvel at the lavish Throne Room, gaze over the gardens, and see the Changing of the Guard ceremony up-close.
Discover Buckingham Palace
The Palace of Holyroodhouse and the Royal Mile
Welcome to the previous home of Mary, Queen of Scots, offering guided tours, royal exhibitions and opulent afternoon teas. Its state rooms have been used by Britain's kings and queens for hundreds of years, and it sits right on the capital's Royal Mile – surrounded by pristine gardens.
Step inside the Palace of Holyroodhouse
A right royal Britain
From exclusive private tours to accessing acres of royal gardens and parks - there's a whole host of ways you can get your royal fix. Discover Buckingham Palace when it opens up its State Rooms to visitors for ten weeks each summer or wander through the Royal Parkland, gardens and house of the Sandringham Estate.
The King's official residences
From the grandeur of London-based Buckingham Palace to the remote Scottish escape at Balmoral Castle, the Royal Family have called some of the nation's most beautiful buildings their home. Dive into the lives of the royals and experience the opulence of these official residences that regularly open to the public.
The Palace of Holyroodhouse and the Royal Mile
Hillsborough Castle and Gardens
The Palace of Holyroodhouse and the Royal Mile
Hillsborough Castle and Gardens
More royal residences worth visiting
Get a sneak peek into the lives of the royals. Discover the royal holiday retreats, private residences and homes dotted all over Briton.
Royal experiences
Open to the public, these historic homes make ideal day trips for royal fans everywhere. Choose to explore ornamental royal gardens, or step inside gold washed rooms - wherever you decide, you'll be sure to gain insider knowledge of Britain's royals.
Tour the State Rooms at Buckingham Palace
A particular highlight at Britain's best known palace are the State Rooms. Opening their doors each summer from late July through to early October, you'll see the rooms uses by our royals through generations. 
At the Royal Mews, discover the Gold State Coach used at every Coronation since George IV - open Thursday to Monday.
Discover Windsor Castle and Windsor Great Park
Windsor Castle is filled with regal experiences that'll allow you to get insight into the lives and history of the royals. Explore the State Apartments, filled with golden grandeur, glistening chandeliers, paintings and carvings. Windsor Castle is open Thursday to Monday from 10am.
Don't forget to explore the ancient woodlands at Windsor Great Park. For a unique way to tour the estate, hop on a horse-drawn carriage to glide through the greenery. The park is open year round and free to enter.
See the glistening Crown Jewels at the Tower of London
Prepared to be dazzled: a colossal collection of over 23,000 gemstones awaits in the Jewel Tower in the Tower of London. Marvel at Queen Victoria's sparkling Coronation Ring, the Sovereign's Orb used at Queen Elizabeth II's Coronation, and St Edward's Crown, used at every royal Coronation since 1661. Opening times and days vary for the Tower of London and Jewel Tower.
Explore Kensington Palace Gardens
Bursting with summertime blooms and dotted with graceful fountains, Kensington Palace Gardens is the perfect place to relax like a royal. But if you're looking for an adventure, wander into Hyde Park to The Serpentine boating lake and hop aboard a pedalo or row boat. The gardens are open everyday from 6am with varying closing times, and Hyde Park is open from 5am to midnight all year round.
Step back in time at the Palace of Holyroodhouse 
Explore Queen Mary's chambers, located through a winding staircase in the oldest part of the palace, or join a guided tour of Holyrood Abbey and spy the Royal Vault, the final resting places of James V of Scotland. You can visit the Palace of Holyroodhouse year-round from 9.30am.
You are encouraged to always check individual attraction websites for the latest information, as events and details are subject to change.